Year of Establishment:1990
Daffodil Computers Ltd. (DCL) since its inception in 1990, has endowed the people, communities, organizations and the nation to use technology and contributed significantly to the development of ICT Sector. We take pride in introducing the first local brand PC in Bangladesh. DCL worked on a single motto to inspire and contribute to Computer Technology to link and enhance people's life. We worked on the principle to innovate customer-oriented, tailor-made and innovative system solutions and services which help our clients to face challenges, indicating a pledge to excellence and a desire for exceeding expectations which helped DCL to remain at the forefront in ICT arena. Today, DCL is a public listed and ISO 9001-2000 certified company which has already been emerged as the trusted and experienced ICT conglomerate in Bangladesh. We follow the technological advancement of the competitive world and the policy of globalization where quality, trust, service and efficiency work as key performance assets for DCL. A group of dynamic and multidisciplinary team is engaged in different IT product retail outlets of the company, namely, Daffodil PC, Hardware Sales, Network Solution, Software (COTS & Bespoke), Software Services, Maintenance Service, Enterprise Application, Multimedia Product & Development, E-commerce, Internet Service Organizations i.e. ISP, Training & Education, System Integration and Consultancy. This wide spectrum of experience enables the company to serve completely end to end solutions to its customers according to their needs. DCL has worked with numerous large projects with Government and among others Bangladesh Railway Online Ticketing Systems, Bangladesh Road Transport Authority Information Systems, and Chittagong Port Container Terminal Computerization Projects etc. This has inspired us to take the challenges of International Projects. DCL, as a socially accountable organization performs responsibilities to leave positive impact on the society through its resources and services. DCL is contributing immensely to the Education Sector and Education Systems Development sector through Hardware & Software which have been highly praised in National & International arena.
Products
Computer Products: Desktop Computer, Notebook, Netbook, Tablet PC, Server
Computer Accessories & Peripherals: Motherboard, CPU, RAM, HDD, PC Casing, Keyboard, Mouse, DVDRW, NIC, Graphics Card, Sound Card, TV Card, UPS, Speaker, CB, Carrying bag
Industrial Solutions: Server, POS, Telecommunication Products, Controlling Products, Large Format Printers, Scanners and Digitizers and GIS Solutions.
Networking Product: NIC, Access point, Switch, Router, Cabinet, Cable, Connector, Wireless products and all networking Accessories.
Security Product: CC Camera, IP Camera, Access point, Time Attendances, Door lock, Surveillance
Software: Microsoft, Adobe, Oracle
Customized Software: Business ERP, Education ERP
Representing Brand:
Intel, Dell, HP, Acer, Asus, Lenovo, WD, Microsoft, McAfee, Adobe, daffodilPC, Amigo
Members:
Dhaka Chambers of Commerce & Industries (DCCI)
Board of Investment (BOI)
Bangladesh Computer Samity (BCS)
Bangladesh Association of Software & Information Services (BASIS)
American Chamber of Commerce (AmCham)
Australia – Bangladesh Business Council
Malaysia – Bangladesh Chamber of Commerce
Korea Bangladesh Chamber of Commerce and Industry (KBCCI)
Dhaka Stock Exchange (DSE)
Chittagong Stock Exchange (CSE)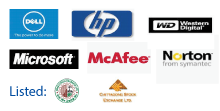 Contact Person:
Head Office:
Abdur Rob AGM (Operation) Cell: 01713493190 E-mail: secretary@daffodil-bd.com Jafar Ahmed Patwary DGM Cell: 01713493161 E-mail: dpc@daffodil-bd.com
Banani Branch:
Md. Ibrahim Khan Titu, Manager Cell: 01713493181 E-mail: banani@daffodil-bd.com
Jamuna Future Park Branch:
Mr.Md.Fazlul Karim Polash, Manager Cell: 01713493212 E-mail: jamuna@daffodil-bd.com
IDB Branch:
Mr. Md. Monirul Alam, Manager Cell: 01713493220 E-mail: idb@daffodil-bd.com
Chittagong Branch:
Md. Shahadat Hossain, Manager Cell: 01713493150 E-mail: ctg@daffodil-bd.com
Address:
Address: 64/3, Lake Circus, Kalabagan
Mirpur Road, Dhanmondi Dhaka-1205
Phone: +8802 9116600, 8115986
Fax: +8802 8116103
E-mail: info@daffodil-bd.com
Web: www.daffodil-bd.com