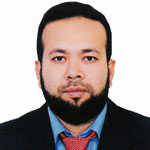 Dr. Mohamed Emran Hossain
Group COO, Daffodil Family
An Investment, Business Development, Strategic Management Specialist

ABOUT

Before joining the Daffodil Family Dr. Mohamed Emran Hossain served in a multi disciplinary consulting firm as the Director and worked in the area of rural infrastructure development, town planning, total government capacity building, IoT service projects funded by Bangladesh Government and different donor agencies like World Bank, Asian Development Bank etc. In the year 2002, Dr. Emran Hossain joined Daffodil International University and strongly administered the total operation and digitization process of DIU following the vision of its Chairman BoT, Dr. Md. Sabur Khan. Following his Degree and Master's Degree in International Relations from the University of Dhaka, Dr. Emran earned his Second Masters Degree in Management in Development from ITC ILO & Turin University Italy under UN scholarship and pursued International Advanced Diploma in Computer Studies from NCC Education UK. Later on, he earned a doctorate in Science and Technology from the Universiti Sains Islam Malaysia (USIM). Dr. Emran Hossain has been serving Daffodil Family since 2002 and engineering the creation of many brands/concerns and working as the BoT members since the inception of Daffodil International University. Under his leadership Daffodil International University has consolidated its position as the First Digitized University of the country. During the year 2017, Dr. Emran Hossain has been given the responsibility of Chief Operating Officer of Daffodil Family considering his diverse knowledge and skills inHigher Education Management, & Quality Assurance, Internationationalization, Organizational Management, Designing Donor Funded Projects, & Operation, and tracking the success of his career. During the past years Dr. Emran has played key roles in several strategic moves including the launch and nurturing of many brands of the Daffodil Family, the successful turnaround of the ICT & Education Related Ventures and , as well as in the investment area. He has made great contributions in developing the link and partnership with many international institutions, associations and many more.
Leadership Capacity
Dr. Emran Hossain has demonstrated excellent leadership capacity during past years in multi discipline areas. excellent leadership skills, business acumen in the ICT & Education Arena and ability to effectively manage, lead and supervise a multidisciplinary team at different levels and have excellent success rate in team task delegation and completion.
Strategic Planning & Decision Making
Dr. Hossain has skills and huge contribution in strategic Decision-making in Daffodil Family Concerns. He has created many success stories in implementing the right projects at the right times. He has vast knowledge to choose the most optimal and beneficial way to do any project, selecting the right candidate to do it and when to do it.
International Collaboration
Dr. Hossain contributed in setting up International Collaborations with many International Institutions and associations in the past years. He led the International Team along with the International Affairs and brought huge opportunities for the students, faculty members and institutions. He contributes in setting up strategic relations, finding scope for collaborations, and scope for joint effort through which our country, education & ICT sector and our community and country can be benefited. He is also representing DIU and Daffodil Family in many International Associations like: EAIA, ERASMUS, EURASIA and brought development scope for the institution and country.
Excellent Operation Management Skills
Daffodil Family is growing at a national and International level and accordingly expanding its operation in the promising International Arena too. As the operational arena is expanding, team focus and size is growing side by side. The team is also growing bigger where Dr Emran Hossain has shown excellent operational excellence in managing the complexity in the team and in the operation with his superb management capacity.

Besides, Dr. Emran Hossain has excellent academic records in his academic career. He has a lot of publications. He also has a lot of publications in different areas and in national & International journals. As an Associate Professor at Daffodil International University, he is also contributing in the Academic Arena. His diversified experience and knowledge in different areas which made him confident in serving the organization and brought success in his career too. During the past year he has traveled to 50+ countries and developed his skills in Internationalization in Education Systems and earned in depth knowledge in cross cultural aspects as well.